Oct 12, 2022
By
Rebecca Briggs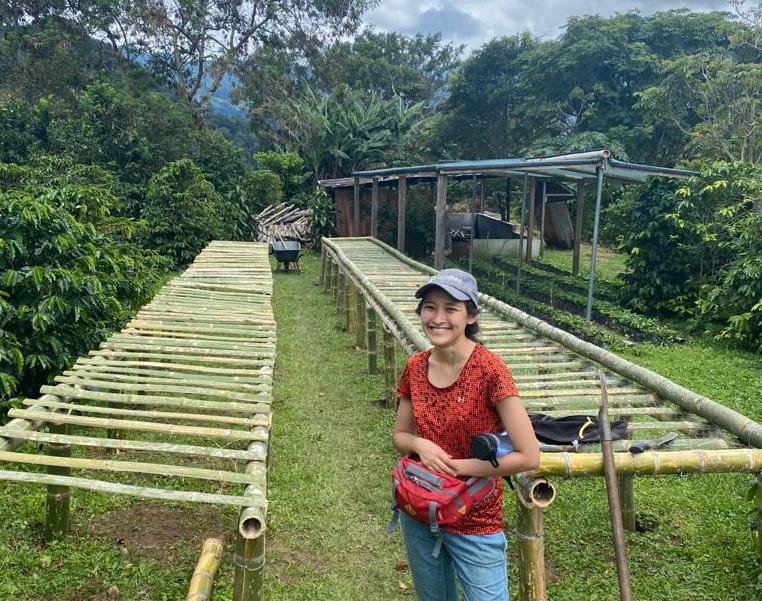 Valerie Chang, Farmer Training Program Participant
By Anthony Mecca, Farmer Training Manager
The Biodynamic Demeter Alliance's farmer training programs weave together a variety of elements to create an immersive, experiential, cohort-based learning experience. One of the central elements is the design, implementation, and presentation of an independent project. Each year I look forward to turning over the formal "teaching" to program participants, creating a space where they can showcase how they explored questions important to them, bringing biodynamics to life on their farms, in their gardens, and in their communities. What follows is a small tasting from the work of this year's participants. Read on to learn about the journey of coffee from soil to cup, hear what it's like to bring biodynamics to a group of urban teenagers, and follow the unfolding of the creation of a "cowander," a calendar featuring divine bovines with proceeds supporting the dairy barn they call home.
The independent project is framed as something that the participant has an interest in; that will serve their farm, garden, and/or community; and that they will be able to document and present for others to learn from. It is often a challenge for participants to narrow their interests and discern what to focus on, but thankfully their intensive engagement with practical work on the farm and in the garden provide a lot of helpful direction!
* * * * *
Valerie Chang is a native of Panama. She recently realized she wished for a greater connection with the earth, and for an opportunity to support the health of the earth. This past year she found herself working on a 15-acre coffee farm. While the farm was not Biodynamic, or even organic, it was an important learning experience: Valerie worked the whole season alongside a group of experienced Indigenous coffee farmers to care for and cultivate the trees and conduct the harvest, and even went the extra step to learn how the "beans" are extracted from the "cherries" (the fruits of the plant) by working through the post-harvest processing at a neighboring farm where they bring their harvest.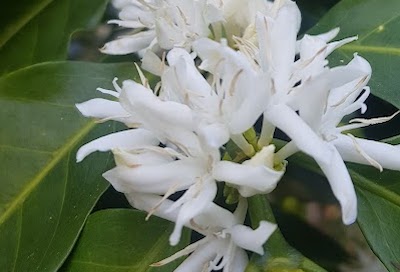 .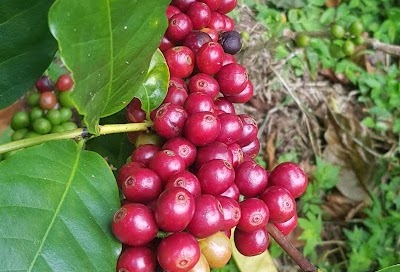 Coffee flowers and cherries
Her independent project focused on getting to know the life cycle of the coffee plant through observing and describing each developmental stage closely and carefully, as well as clearly documenting the characteristics to look for when harvesting and the post-harvest fermenting, drying, and roasting process. She had some familiarity with the plant, but her work surprised herself as to how much one can get to know about a type of plant. As she offered her insights, I learned that coffee has multiple flowerings that smell like jasmine, what coffee cherries look like at different stages of ripeness, and common diseases the coffee is susceptible to in Panama.
Her inquisitive nature and desire to bring greater health to the farm brought new ways of seeing to her coworkers. Though there are currently no clear solutions to some of the pest and disease issues they face besides the conventional sprays commonly used, Valerie and her partner have purchased the coffee farm she worked on and plan to gradually transition it to Biodynamic production. She is working with a graduate of the second year farmer training program familiar with coffee production as a mentor and is making connections with the budding Biodynamic work in neighboring Costa Rica and Columbia to identify consultants and other farmers with whom to work.
* * * * *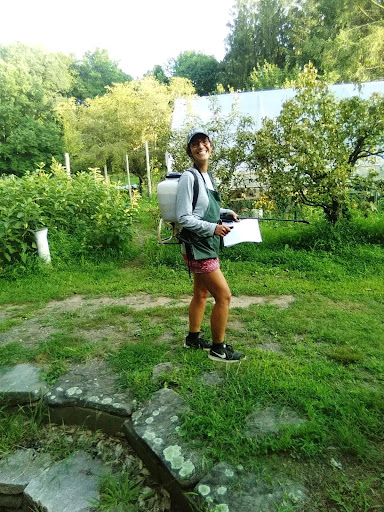 Alex Almeida
Alexandria "Alex" Almeida hails from Connecticut. After some stints with non-profit organizations on the West Coast, Alex felt a calling to come back East and find something she could do practically to help the ills she saw in the world, which is what brought her to farming. Alex worked at Fire Ring Farm, a market garden and CSA, where she learned the basics of cultivation and harvesting of a variety of vegetables, as well as soil care. She later moved onto the Green Village Initiative in Bridgeport, Connecticut, a local, food justice non-profit organization, where she managed twelve community garden plots and provided education.
At Fire Ring Farm, Alex and her mentor were interested in implementing biodynamics, but were at the beginning stages. Alex took the initiative to make a plan to work with the Biodynamic preparations and learn by doing, with support from some folks experienced in biodynamics. She purchased the preparations from the Josephine Porter Institute, and though she was excited about getting started, there were a number of hesitations and false starts that left the preparations in storage for a little while.
Despite feeling like she didn't quite know what she was doing or that she didn't have the "right" equipment, and ending up needing to do the initial spray solo, Alex worked through the negative self-talk and challenging outer circumstances to sit, stir for an hour, and figure out how to spray the horn manure. After making her way through this experience, she had a newfound resolve and did four subsequent sprays of horn manure and horn silica, bringing in the farmer at Fire Ring as well as other volunteers. They also created a compost pile and applied the Biodynamic compost preparations.
By the end of these experiences, and after having some time to talk about them together, everyone had a much better understanding and feeling of the "big picture" of what it takes to apply the preparations and what their activity is. Alex was able to help her mentor understand that, rather than a short-term, silver-bullet fix for specific problems, the preparations are working to initiate, build, and strengthen long term relationships between the soil, plants, and the surrounding atmosphere and cosmos, and between human beings and the earth. This understanding made a big difference. It has also contributed to how the farmer looks at some of her other farming practices.
The second part of Alex's project focused on a one-hour presentation for a group of teenagers who worked at the Green Village Initiative (GVI) over the summer. Bridgeport, where GVI is based, is the most populous and diverse city in Connecticut, with significant food insecurity. The Youth Summer Crew at GVI is a paid position which also qualifies for college credits at the local community college that focuses on learning about farming and food justice. Besides contributing to caring for the land and vegetables at the GVI Reservoir urban farm site, there are also learning activities provided. Towards the end of the Youth Summer Crew's time at GVI this year, Alex offered a workshop on the basics  of Biodynamic agriculture.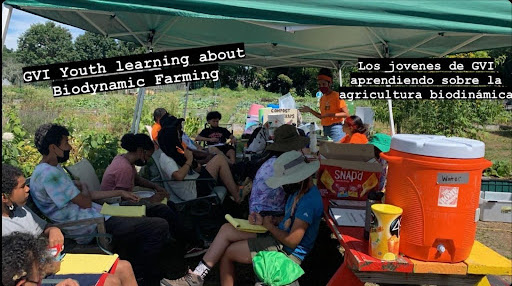 As Alex approached this wonderful opportunity, there were both feelings of excitement and some anxiety. She reassured herself with the idea that she would not need to wow every participant, but that reaching one in a significant way would be something to strive for. Questions about her own confidence in her knowledge of biodynamics, and how the youth would take it in, bubbled up inwardly.
She brought forward some technical agronomic aspects of biodynamics, such as composting and a focus on building soil health through careful tillage, crop rotations, and the use of the preparations, and invited the youth to explore anthroposophy as a path to help them work with questions they may have about their inner being and relationship to the world. Alex then bridged biodynamics and anthroposophy by guiding the high schoolers through exercises and sharing around the experience of nourishing: consuming nourishing food, participating in nourishing activities, and nourishing the earth and each other. She challenged them to ask how one may experience and offer nourishment in creating their ideal of what a farm and garden may be. She left them with the question of finding a path to develop oneself and participate in the life of the land towards the health of the world.
Following the presentation, Alex received good feedback from her fellow staff members. The young people seemed both grateful for this opportunity, and also somewhat confused at what to do with it. Many were not familiar with some of the basic ideas of gardening and farming, so even the agronomic aspects were brand new. She could tell that some were inspired, though, and wondered where it might lead.
A few weeks later she received a photo of the design of the Summer Youth Crew shirts they would take with them as they finished for the summer. The shirts featured the youth working on a compost pile with the phrase, "Dirt is Dead. Soil is Alive." — a phrase that Alex had used a few times during her presentation. It seemed that there had been some impact! And Alex had taken some significant steps in her understanding and experience of biodynamics in having to create a doorway for others to enter into it.
* * * * *
The last project is from Jess Brobst, the dairy herd manager at Hawthorne Valley Farm. Hawthorne Valley is a 900-acre diversified Biodynamic farm in the Hudson Valley of New York. Jess began there as an apprentice in 2016 and has been the dairy herd manager for four years now. She participated in both the first and second-year farmer training programs through the Biodynamic Demeter Alliance. Jess is involved in many aspects of the farm — from caring for the cows and dairy to the apprentice program and various other educational initiatives.
Throughout her time in the farmer training programs, she found many opportunities for reflection, growth, and development in her capacities as a farmer, including how she as a human being can best relate to and care for animals on the farm. Her trials through this journey brought her to exploring these relationships through art, and eventually culminated in the creation of a "cowander," a calendar of divine bovines from the Hawthorne Valley herd. The proceeds from the sale of the calendar go towards the care of the dairy barn they call home. You may recognize a couple of the cows from past covers of the Biodynamics journal.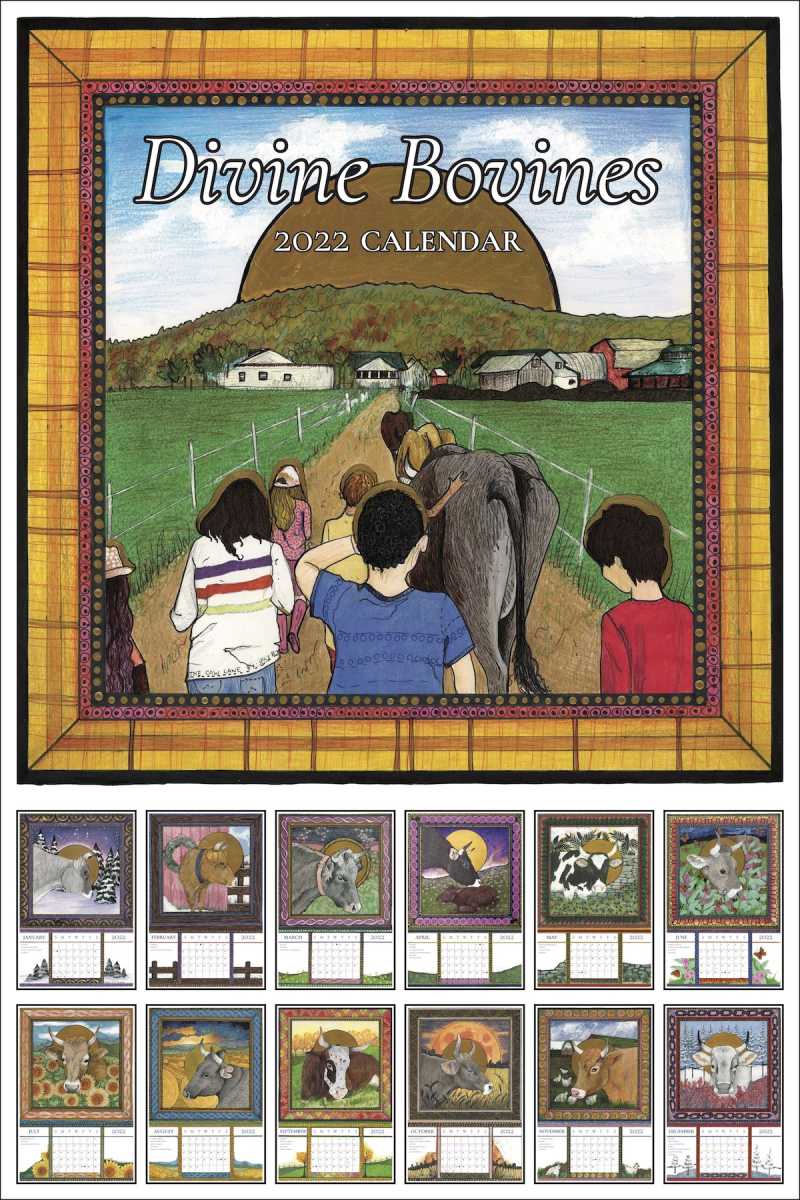 There are still some 2022 calendars available. Though we're coming towards the end of 2022, the portraits of the cows are timeless — and the proceeds support the dairy barn!
* * * * *
Biodynamics is a path for the healing and renewal of both the earth and human beings. Each practitioner and each place on earth may bring these principles and practices to life in their own way, to meet the needs of the earth and their next steps. Each has their own path towards health that contributes to the greater health of the whole. I hope the sharing of a few paths may bring inspiration and hope to you on your path as you work with your questions, with your place on earth.