Sep 30, 2020
By
Biodynamic Association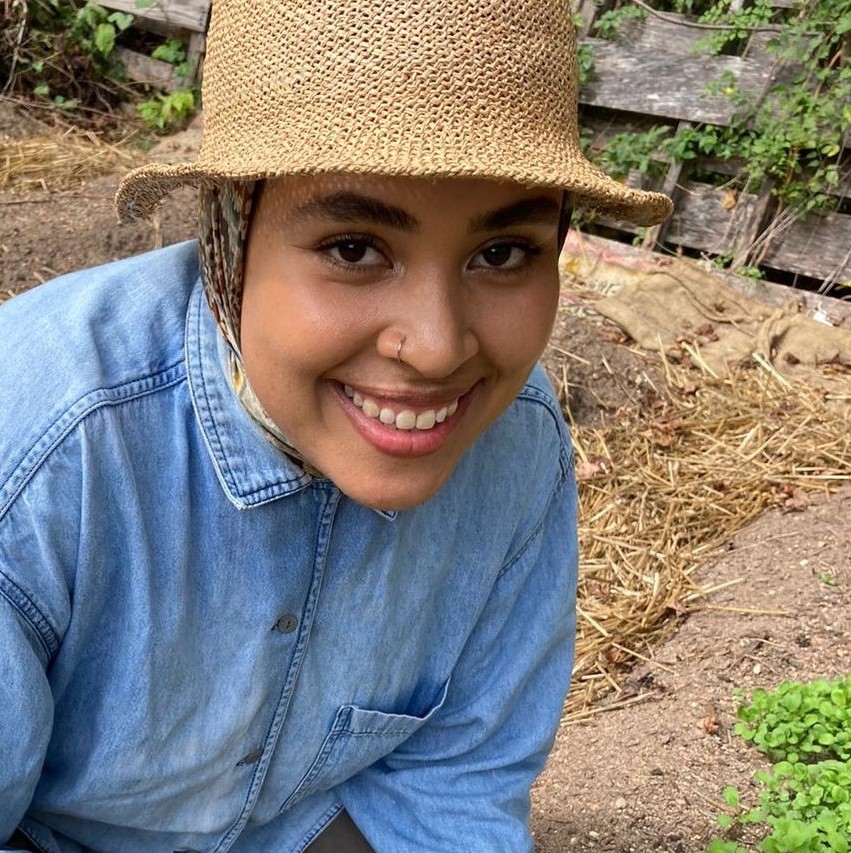 ---
In preparing for the Online Biodynamic Conference, the time is perfect for making a small (or large) gift to the Biodynamic Scholarship Fund.  In asking people to donate, I wanted to hear more about what last year's scholarship recipients had been doing since the conference, especially as this year has been so incredibly challenging for everyone, with special challenges for those working in foodways and food justice issues.  Salima Taylor has found a way forward during this tough year.  --Georgie Donovan, staff, Biodynamic Association
---
BDA:  Salima, hello!  First, tell me what you are up to right now, especially in terms of agriculture work?
Salima:  I graduated in May from the Friedman School at Tufts and moved back home to North Carolina. This has certainly been a  transition -  from the constrictions of living as a graduate student to moving back into my childhood home. It has also been an expansive and purpose filled time. This land has seen me through the ebb and flow of growing up and provided safety and sustenance.  
These tumultuous times demand that we fortify ourselves by filling our mind and bodies in creativity, fresh air, laughter and purpose. I have been active in cultivating this around my mother and I to combat the disruptions and shocks of current events and especially in preparation for winter. We have just planted the fall garden, expanded our winter pantry and prepared tinctures while continuing to make small improvements to the property. Our vision is to continue to build a biodynamic homestead with a focus on food production, herbal remedies for prenatal to postpartum maternal health and bee and pollinator sustainability by having the land certified as a bee sanctuary.
BDA:  How beautiful a vision to see becoming physical and real!  Is there anything from last year's conference that has stayed with you during this time?
Salima: Last year's conference was my first and I was only armed with only a smidgen of information about Biodynamics. I walked away realizing that it was, simply, a platform for people to understand their lives. It is almost as if the land, farm and garden are metaphors, an analogy of how we should approach and ground ourselves in the terminal condition of being human. 
Last year's conference made me realize that I needed to have both hands in some aspect of gardening, farming or agriculture and further examine my relationship to the dysfunctional food system. Within my academic setting, I brought the discussion of land trusts to our community to highlight efforts by indigenous communities to reclaim their rightful lands. 
BDA:  You mentioned it was a big decision to move back to NC and start growing there.  How did your plans develop over the last year, especially in this time of great change?
Salima:  I should share that I grew up with a kitchen garden that included vegetables and herbs. My grandfather was a soybean farmer and my mother is a gardener so I have always been exposed to cultivating food; however, I felt that I needed to go elsewhere to make an impact. During my last semester, I was interested in finding a job in West Africa when the pandemic hit. I was no longer thinking of going abroad so I was ready to complete a farm apprenticeship in Western Massachusetts or New Hampshire to have the experience of working on a farm and possibly a biodynamic one. 
However, as the pandemic continued to unfold and a spotlight was put on systematic police brutality and racial injustice, I knew I needed to be in a place surrounded by love and understanding. These last months have been transformative because it has required reflection and examination of my own bias, self talk and outlook on access, wealth, and land. 
The aforementioned project is my response to current events and historical inequity rooted in the American systems because I realized the power in coming back home in order to build. 
I am also involved in responding to the pandemic by training contact tracers on cultural humility and trauma informed care to bring attention to and offset the power imbalances inherent in medical and public health systems.
BDA:  Thank you for the work you're doing, in every sphere of your life.  Do you think you'll attend this year's Online Biodynamic Conference?
Salima:  Yes, I plan to attend the conference and will apply for a scholarship. Although I am a little bummed that there won't be an in-person meeting, I understand the risks associated. I look forward to connecting further with biodynamic practitioners and finding ways to create community. 
During these times, I am searching for communities that are calling people to ground themselves and slowdown in this microwave culture. To recognize the inherent interconnectedness of ecosystems. I am particularly excited to hear more about the work of Spikenard Farms and Gunter Hauk who is a fountain of wisdom.
BDA:  Ok, last question.  Is there anything you would say to someone who is considering making a donation to the scholarship fund? 
Salima: How do we generate and foster understanding, compassion and humility? It is when we have communities that encourage difference - understanding that we are not that different. We all seek safety and dignity.  Dismantle those systems within your own body and mind that place value on people and instead recognize their humanity. Your own humanity is then attainable. Donate - invite people into the biodynamic community.
---
Help us welcome 200+ people to the biodynamic community by making a donation today!
Donate here: https://www.biodynamics.com/content/fund-a-farmer
If you're unable to make a donation, please consider sharing the campaign with your friends and family!  
---
.