Since 2009, over 100 aspiring biodynamic farmers have participated in our North American Biodynamic Apprenticeship Program (NABDAP), learning side-by-side with exemplary biodynamic mentor farmers across the continent. We have celebrated the graduation of 37 new biodynamic farmers, and 12 more are on track to graduate this year. Just as each farm individuality needs to grow and evolve over time, so does our work to train the next generation of farmers.
Building on the strengths and accomplishments of NABDAP, we are delighted to introduce two new intensive one-year programs that will provide more flexibility, as well as a solid and broad foundation in all of the essentials of biodynamic farming for everyone who participates. Individuals will have the option to participate in just the first year, or both.
For both programs, we are inviting established farmers interested in learning more about biodynamics to participate as well continuing to offer apprenticeship opportunities on exemplary mentor farms.
The Biodynamic Farmer Foundation Year offers aspiring biodynamic farmers the opportunity to build a solid foundation in the principles and practices of biodynamic agriculture. Individual support from an experienced mentor farmer and a cohesive, integrated, and interactive learning curriculum bring biodynamics to life.
The Biodynamic Farmer Development Year, which will begin in 2019, will develop and deepen the skills needed for biodynamic farm management for those who graduate from the foundation year. This program will allow for more scope and specialization in specific farm management and production areas.
Applications for the Biodynamic Farmer Foundation Year will open at the end of November. Contact Anthony at anthony@biodynamics.com (link sends e-mail) or by phone at 262.649.9212 x14 with any questions or to be notified when applications open.
The NABDAP pages will remain in place for those interested in seeing the strong foundations we are building our new programs on. The graduate profiles are especially inspiring!  You can find all the details on our new Farmer Training programs at our new Biodynamic Farmer Training page.
These are Mentor Farms from NABDAP, which is retired. We will have mentor farm pages up for our Biodynamic Farmer Foundation Year very soon!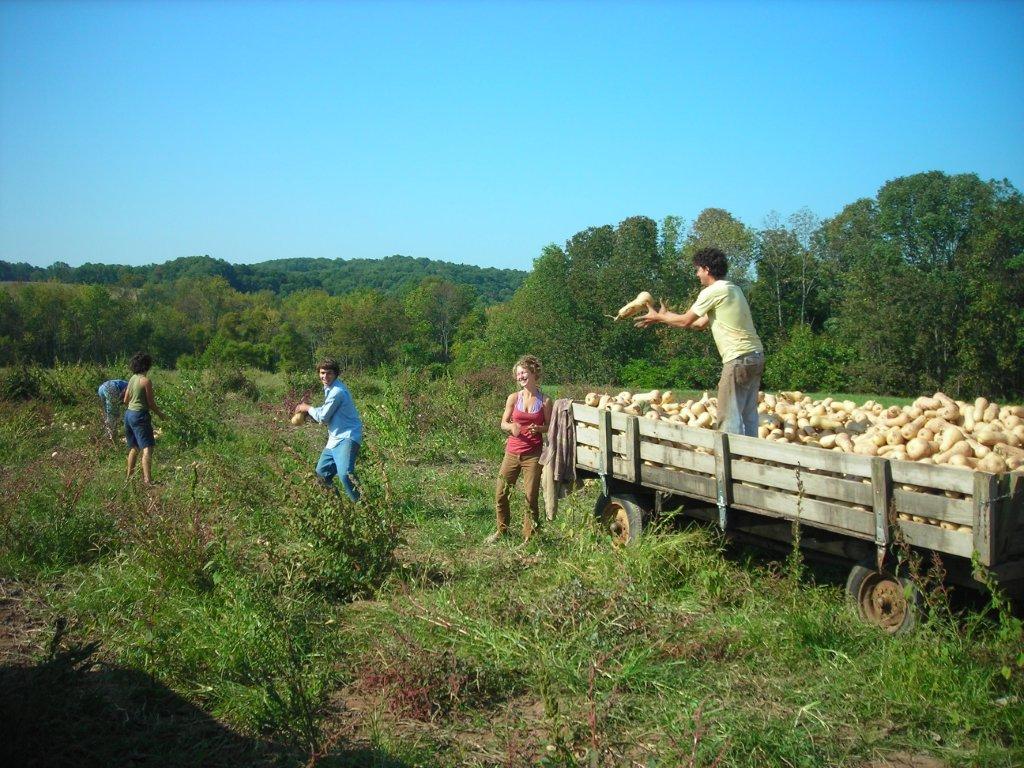 At Sankanac CSA we believe that the health of land and people are deeply interdependent. We are deeply committed to the use of biodynamic methods, which allows us to strengthen our fragile ecosystem as well as provide food of the highest quality to our local community. Activities in the CSA include plant propagation, greenhouse management, pruning, crop cultivation, harvesting, tractor and equipment operation and maintenance, irrigation, livestock management, composting, making and using the biodynamic preparations. Sankanac CSA is part of Camphill Village Kimberton Hills, a 432 acre agricultural and crafts community which focuses on life-sharing and specifically includes adults with disabilities. Our head gardeners oversee this enterprise with a crew of over 10 gardeners (including individuals with special needs, apprentices, service volunteers, and interns).
Size of farm: The garden is 15 acres within the 432 acre Camphill Village.
Diversity of produce and livestock: We grow a diverse seasonal mix of 35 species of vegetables, fruits, herbs, and flowers. The CSA operates year-round. In addition to our CSA, Camphill Village Kimberton Hills also tends a grass fed dairy farm, an orchard, a small apiary, woodlands, a wood fired bakery, coffee shop, craft workshops and 17 life-sharing households.
Skills that can be learned: See Sankanac CSA's Skills Checklists
Apprenticeship details: Positions begin and end in early spring. The CSA offers a 1 or 2 year apprenticeship, and 1-3 month internships, in biodynamic agriculture. Apprentices get fully integrated into Camphill Village and receive health insurance after three months, access to cars, room and board plus a monthly stipend.
A strong theoretical component to the training will be emphasized, and include regional farm tours and monthly seminars through SAITA. Weekly study groups on Biodynamic Agriculture and Anthroposophy during the Winter months, as well as weekly participation in the Kimberton Hills orientation to Camphill and community life are available to one and two year volunteers. We live and work with people with developmental disabilities- the CSA is embedded within the eco-village of Kimberton Hills.
Mentor Farmers: Todd Newlin and Mary Wildfeuer
Address: 1852 French Creek Road Phoenixville, PA 19460
Phone: 610-935-3963  Email: information@camphillkimberton.org
Website: www.camphillkimberton.org or www.sankanacCSA.com